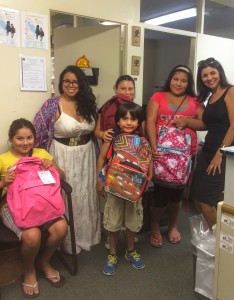 A little over a month ago, Bella Sol The Salon began to collect donated backpacks filled with school supplies for Pasadena Unified School District's (PUSD) underprivileged children. The goal was simple: reach out to salon clients as well as the local community for support in gathering as many as possible. With a successful drive, Bella Sol met that goal and provided families with school necessities that they otherwise could not afford. The salon not only left an impact with Families In Transition, but also on the children whose lives were touched by this act of kindness.
These children are part of a PUSD program called Families In Transition, and the program identifies, provides outreach, and connects homeless and transitional students and their families to the appropriate services needed to stabilize a student's environment so they can grow personally and academically. They accomplish this by providing basic needs assistance, family support, academic accountability, clothing and toiletry assistance, transportation assistance, and many other services as appropriate.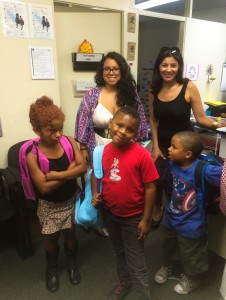 Bella Sol The Salon's culture is based on a philosophy of giving back. The salon is extending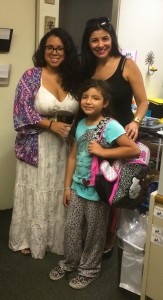 what they already do in their business to the community in an effort to influence people to act in kindness. Though, helping these children by providing them with school supplies wasn't just a simple act of kindness—it also served as awareness on the amount of homeless or transitional children that currently exist. The donated backpacks and school supplies helped give them a chance at a promising start to the new school year. Backpacks, lunch bags and school supplies were distributed to students ranging from elementary grades to high school. By setting them up for success, they are able to have the tools for learning and achieving scholastic excellence, despite their economic circumstances.
This particular project is part of a bi-monthly commitment to participate in paying it forward that Bella Sol The Salon started last December of 2014. It involves donating basic items, physical volunteering, monetary contributions, and providing support and education to the public on behalf of various nonprofit organizations.  In doing so, Bella Sol is helping bring awareness to existing issues in our local community as well as in surrounding regions.  Through collaborating with nonprofits and in keeping this commitment, Bella Sol believes in the ability to help people's lives and transform communities, supporting them to move towards prosperity.